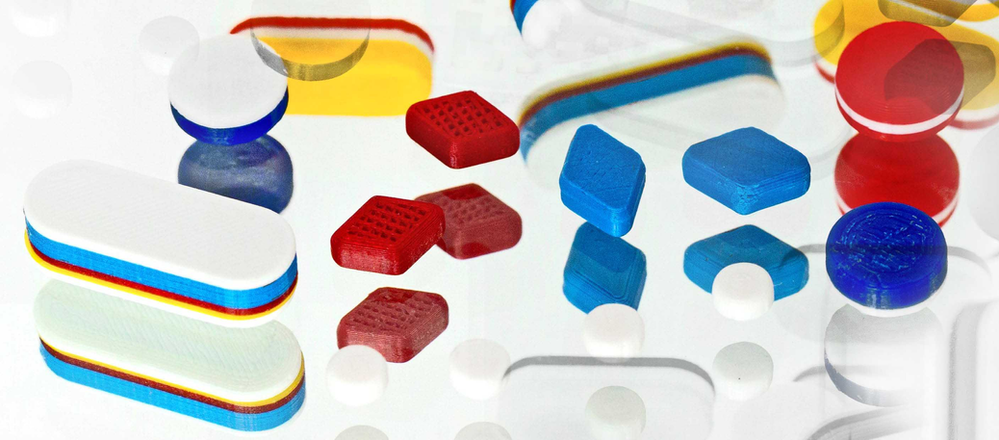 PolyPrint research project develops new printer and new polymers
In a consortium, TH Köln, Heinrich Heine University Düsseldorf (HHU) and the companies Merck and Gen-Plus are researching the further development of pharmaceutical 3D printing in order to be able to produce highly individualized drugs in small quantities. After more than a year, polymers with improved properties are now available for further testing and optimization. A first prototype 3D printer is also ready for use.
"If drugs are tailored precisely to the patient's particular clinical picture, this increases efficacy and reduces side effects. However, such drugs are only needed in very small batches of around 1 to 100 units. That's why we need novel manufacturing processes such as 3D printing," explains Tilmann Spitz from the Institute for Product Development and Design Technology at TH Köln.
In the end, there will be a holistic system consisting of new raw materials, suitable printers and individual drugs that covers all aspects of pharmaceutical 3D printing. "At Merck, as a science and technology company, sustainability and long-term thinking are core to our corporate culture, while at the same time people are at the center of everything we do. In this project, care was taken from the outset to ensure that completely individual drugs were developed using particularly environmentally friendly manufacturing processes," emphasizes Dr. Markus Weigandt, head of the Pharmaceutical Development department at Merck's Healthcare business sector. Today, 60% of prescribed drugs do not have the desired therapeutic benefit. This leads, among other things, to considerable side effects, which in turn leads to a sharp decline in patients' adherence to treatment. The drugs are then no longer taken at all, with the result that there is a further deterioration in therapy. The amount of tablets produced that are not taken and end up in the trash is now an alarming 50%. This is not only a burden on the health care industry's cost units, but also a heavy burden on our environment. Individualized medicines are therefore not only more effective, but also environmentally friendly," adds Dr. Dachtler, Managing Director of Gen Plus.
In order to avoid dosing errors and increase so-called therapy compliance, patients should have to take as few tablets as possible. For this reason, the team at TH Köln is working on developing a 3D printer that can combine several active ingredients. "Our demonstrator works with two print heads that can contain different active ingredients and print one tablet after the other or alternately. The system will be highly scalable, so that eight or even more print heads can work together in further expansion stages," Spitz said. Not only the active ingredient composition will be individualized. The geometric structure of the tablet can also be used to determine the sequence and time delay with which the active ingredients are released in the body.
The new 3D printer is also designed to meet the requirements of Good Manufacturing Practice (GMP) in accordance with the EU GMP guidelines for systems in pharmaceutical production. The team wants to meet the hygiene requirements formulated there by ensuring that the print head is easy to dismantle and clean. In addition, there are precise requirements for the production of medicines, as the active ingredient must neither be underdosed nor overdosed. Here, automatic quality control is to take effect during production and correct production if necessary.
New polymers facilitate production
Drug printing also faces special challenges in terms of the raw materials used. A mixture of pharmaceutical polymers and active medical ingredients is printed. As plastic strands, called "filament," these are fed into the print head and melted there. "We work in part with filament that contains only 0.1 percent active ingredient. This must be absolutely evenly distributed within the plastic and the printing process must run as smoothly as possible so that the same amount of active ingredient is in each tablet," says Dr. Julian Quodbach from the Institute of Pharmaceutical Technology and Biopharmacy at HHU.
"In particular, the mechanical properties are of great importance. The plastics must not be too flexible, but also not too stiff, in order to guarantee consistent production and quality. In addition, they should melt at lower temperatures in the printer and not at 180 to 220 degrees, as is usually the case, in order to protect the active ingredients," says Quodbach.
Based on preliminary studies, Merck's Life Science business sector has developed several new polymers that enable improved properties for extrusion, compression and stabilization of drug substances. The new polymers will be characterized with respect to their suitability for various active ingredients and drug requirements (e.g. low water solubility) and their safety for use in humans. The HHU team will now develop a process for the production of the filaments for these polymers and print the first tablets. "Gen-Plus, as a specialist in additive manufacturing processes and extrusion technologies, is not only supporting the team with its expertise. The 1,000-square-foot GMP contract lab also applies the concept of 3D printing," adds Dr. Dachtler, managing director of Gen-Plus. In this specific case, Gen-Plus is conducting long-term tests and testing the stability of the filaments and the printed objects. The main aim is to test whether the active ingredient degrades over time or whether properties of the filaments change with regard to their printability.
Dr. Weigandt from Merck's Healthcare business sector summarizes: "PolyPrint uniquely combines expertise in pharmaceuticals, materials and process science. As a strong interdisciplinary team, we have the opportunity here to tremendously advance personalized medicine and better tailor it to the needs of our patients."
The project "PolyPrint – Process-safe and reproducible production of pharmaceutical dosage forms using the FLM process" is being carried out by TH Köln, Heinrich Heine University Düsseldorf (HHU), Merck and Gen-Plus GmbH & Co. KG. The Federal Ministry of Education and Research is funding the project for three years through the ProMatLeben – Polymers funding program (FKZ: 13XP5064).