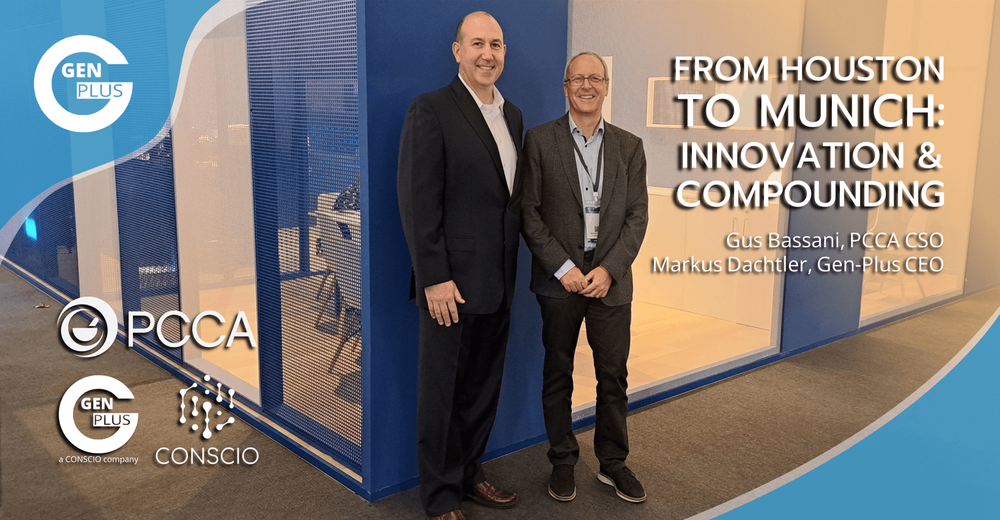 Pharmaceutical innovation comes in many forms: It is not the same for a big pharma company or a small start-up, for new drug innovators, generic manufacturers, or compounding pharmacists. But all of these players face similar needs and challenges which more and more often drive them to outsource demanding R&D projects to specialist service providers. Dr. Gus Bassani, CSO of PCCA, a leading , Houston, USA-based supplier of APIs, excipients and drug delivery technology to compounding pharmacies, and Dr. Markus Dachtler, CEO of Gen-Plus, a pharma innovation and manufacturing firm from Munich, Germany, join us today to share some lessons learnt from their successful, long-term collaboration.
Gus Bassani is a Doctor of Pharmacy and has been a member of the Compounding Expert Committee of the United States Pharmacopeia (USP) for nearly 15 years. He also serves as Chief Scientific Officer for PCCA, a US company devoted to helping pharmacists, community hospitals and FDA-registered outsourcing facilities, prepare personalized medications. He explains the particularities of pharmacy compounding in the US and the reason why innovation is so necessary in his line of work:
"PCCA supplies materials, equipment and technical support for the compounding of dosage forms where there are no commercially available drugs for a specific issue" Dr. Bassani begins. "Perhaps a patient may be allergic to a particular color or a dye, or a physician is interested in administering an already existing drug in a different way. For example, a medication in tablet form could be prepared into a liquid. Back in the day, such prescriptions were compounded using a mortar and pestle" he continues. "Nowadays, our industry is becoming more technologically advanced; there's more automation to take the human element out and improve consistency. Plus we are seeing the growth of personalized medicine that takes into account aspects such as pharmacogenomics or biomarkers of response. It takes some big thinking to accommodate for all those possibilities and a lot of innovation needs to take place."
Dr. Markus Dachtler, PhD in Analytical Chemistry and CEO of Gen-Plus and DiHeSys Digital Health Systems, agrees with Gus Bassani about the increasing importance of innovation and the clear trend towards outsourcing such activities in the pharmaceutical sector:
"Gen-Plus' aim is to discover innovations for contract partners" he starts. "This includes solid and semisolid dosage forms, transdermal patches and thin films ranging from the early idea to GMP production of medicinal product samples (for clinical trials). We must understand that innovation is as broad as it is demanding" he continues. "On one side, big pharma companies are too focused on other areas and often close development sites to rely on others to do the job for them. On the other hand, smaller companies and start-ups usually lack the capabilities to carry out innovation by themselves and find it more cost-effective to subcontract early stages of development. Gen-Plus can deal with many different technologies and this of course costs money. If you only have a couple of projects under development, it may be hard to know in which technology to invest. In consequence it is safer for our clients to go outside and ask us to assume this initial burden." Dr. Dachtler ends on a high note: "We at Gen-Plus have the right people, the right knowledge and the right equipment to perform their innovation."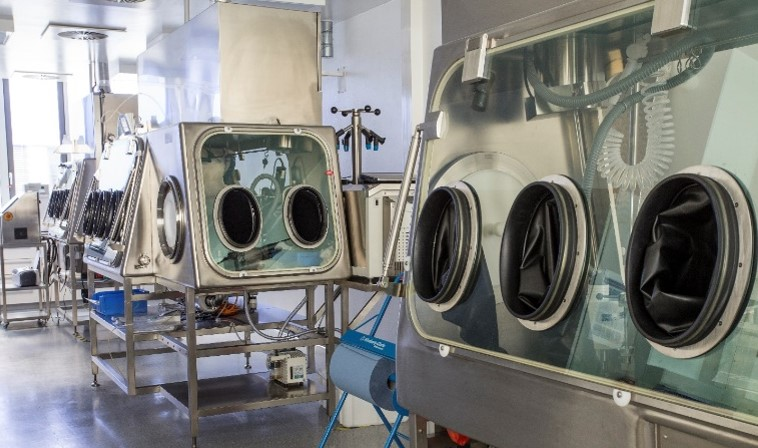 Gen-Plus' facilities in Munich, Germany
At this point the two partners recall how they first met during a chance encounter at CPHI Frankfurt. Dr. Gus Bassani comments first:
"We are a leader in formulation development and innovation who also likes to look outside our walls to leverage our expertise. Back in 2019, we had a couple of projects in need of technical assistance, and we just met Gen-Plus at CPHI and had a great conversation. They asked the right questions, which opened our minds to different possibilities." Dr. Bassani remembers, and Dr. Dachtler steps in: "PCCA approached us directly and began working with our R&D team as one. I think both sides really appreciate that level of closeness." Gus Bassani takes over again: "Markus' team was extremely responsive and committed. It became clear to us that they had an excellent depth and breadth of experience in pharmaceutical development. We've been working with them ever since and are very pleased with the progress of our projects. The rest is history."
Markus Dachtler takes a moment to elaborate on the depth and breadth of experience praised by Dr. Bassani; a key feature which in Dr. Dachtler's opinion makes Gen-Plus truly unique:
"Even to this day, what really strikes me about our team is the extraordinary blend of different expertise in a relatively small environment" he declares. "Our specialists are proficient in dozens of different technologies to handle narcotics, high potency active pharmaceutical ingredients (hAPIs), hard-to-make formulations or nanotechnology; and extremely adaptable to multiple applications such as temperature sensing patches, hot-melt extrusion, oral dissolving films or transdermal drug delivery systems; all of them good examples of our R&D capabilities" Dr. Dachtler lists. "Clients often approach us at early stages of development without a final product clearly defined in their mind." he asserts.
This last comment prompts Gus Bassani to reflect on other considerations PCCA took when deciding to choose a service provider in Germany instead of a more local one:
"For us, it was about the people and their expertise and less so about the location or the geography" Dr. Bassani states. "Sometimes companies only outsource certain services within the country where they reside because they're just more comfortable with the laws of that country. If anything were to go wrong, they may have a little bit more legal leverage if it's kept in the US. Those are legitimate concerns for any company anywhere but at the end of the day, what's important is who you're working with and how experienced, capable, and reliable they are – regardless of where they are in the world. Gen-Plus is based in Germany, a country with a long reputation of innovation. Europe, in general, is a fairly easy region to work with. And the time difference is not that big of a deal" he adds on a lighter tone.
Indeed, the reliability of service providers is of particular importance in the global pharmaceutical outsourcing market, and both partner companies speak from the experience of having a very significant international presence. Dr. Dachtler begins:
"We at Gen-Plus have plenty of sponsors in Europe, as one would expect from a company based in Germany, but also multiple international projects in the USA, Australia, Israel or Latin America to name a few. Just like innovation is very diverse so is our client base, and we also have all sectors evenly represented: From big pharma companies, innovators, global generic sponsors or startups." Dr. Bassani continues on the same theme: "PCCA in turn has nearly 4,000 community pharmacy members from the US, Canada, Australia and other countries. Our consulting team takes anywhere from 350 to 500 calls every single day from pharmacies around the world."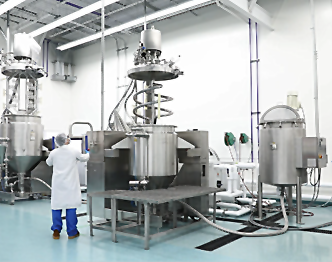 PCCA's facilities in Houston, USA
Here the conversation takes a different turn when Gus Bassani shares another reason why he considers Gen-Plus a trustworthy innovation partner:
"And speaking of diversity, compounding addresses a great diversity of needs withdrugs for both human and animal use, as well as every type of dosage form you can think of. With such variety of personalized medications, the generation of sufficient data and the adequate assessment of the different formulation possibilities that you can create can be very challenging. But thanks to Gen-Plus' thoroughness and GMP mindset, we have extensive data around the physicochemical stability, overall safety and quality of formulations as if they were going through a full regulatory pathway. And the added analytical capabilities that the Conscio Group brings to the table, allows for an additional layer of potential risk mitigation to assess suppliers" Dr. Bassani explains.
Markus Dachtler contributes with some additional comments about the above-mentioned GMP capabilities and the added value of combining Gen-Plus' services with the rest of the Conscio Group:
"Although we are mainly speaking about innovation at early stages of development, clients who need to go to all the way to scale-up can still count on us thanks to our supplementary GMP capabilities for quality control and small-scale manufacturing" he sustains. "Now, as part of the vertically integrated umbrella of Conscio, Gen-Plus can significantly broaden its service portfolio with a true start-to-end solution: Beginning with the "idea phase", formulation and process development, analytical method development, moving on to clinical studies, bioanalytical testing, GMP quality control and all the way to production and commercialization" Dr. Markus Dachtler concludes.
After Dr. Dachtler's final words, Dr. Gus Bassani draws our attention to an important point that speaks volumes about his team's commitment to safety and quality, and which lies at the core of the successful cooperation between PCCA and Gen-Plus:
"It is important to point out that the formulas that we're putting together are exempt from the new drug provisions of federal law in the United States because they are compounded. And they do not contain new molecular or chemical entities, but rather well-characterized drugs that are in approved products or listed with FDA as acceptable to be used as a bulk drug substance in compounding. As such, they are considered extemporaneous bespoke and are not required to go through FDA approval. In other words, there isn't a legal requirement for the level of due diligence, research, information, and investment that we as a company put into our supply chain on a daily basis" he stresses. "But we want to make sure that we're doing everything we can to evaluate our formulations in terms of their stability, consistency, homogeneity… all the things that Big Pharma does as a customary aspect of their product development. And the reason we shoulder that burden and partner with top R&D experts like Gen-Plus is because it benefits patients. Because lives depend on a job well done."
PCCA is a complete resource for compounding pharmacies headquartered in Houston, USA, providingcustomized medication solutions, materials, equipment and training to health systems and a network of community pharmacists of nearly 4,000 members in the United States, Canada, Australia and other countries around the world. Visit www.pccarx.com for more information.
GEN-PLUS is an R&D and manufacturing expert for the pharmaceutical industry headquartered in Munich, Germany and part of the Conscio group. With extensive experience in key pharmaceutical technologies Gen-Plus offers services from proof-of-concept and formulation development to clinical trial samples and small batch GMP production. Visit www.gen-plus-e.com for more information.
CONSCIO GROUP is a fully certified provider of services for the pharmaceutical and the biotechnological sectors, including pharmaceutical R&D, clinical trials, bioanalysis, quality control, and IMPD compilation. Other Conscio members include Quinta-Analytica (Czechia), Gen-Plus (Germany), EL Labs (Slovakia), LVA (Austria) and Hyserve (Germany). Visit www.consciogroup.com for more information.